Research and Technology
1- MARKET EVALUATION FOR NEW PRODUCTS AND/OR TECHNOLOGY
UBIC-Consulting has developed a core competency in the field of technology valorization for biotechnology and bio-industry.
This is made through literature and desk research, interviews of professionals and pharmaceutical, biotech, cosmetic or food companies.
UBIC has developed relationships with a large number of universities and public or private research laboratories in nutrition and health sectors.
Through this large collaborative network, UBIC can gather valuable expertise on trends pertaining to new products developed in that field. In-depth interviews with experts guide us in our decision-making processes concerning the analysis of potentially valuable new development of a product and/or technology.
Additionally, our network provides the opportunity:
to assist our clients in new product development based on external public or private labs technologies
to find new products or technologies to license or acquire
to choose one or a range of specialized laboratories to outsource tailored research programs
All these services being managed by UBIC will be completed with strict confidentiality.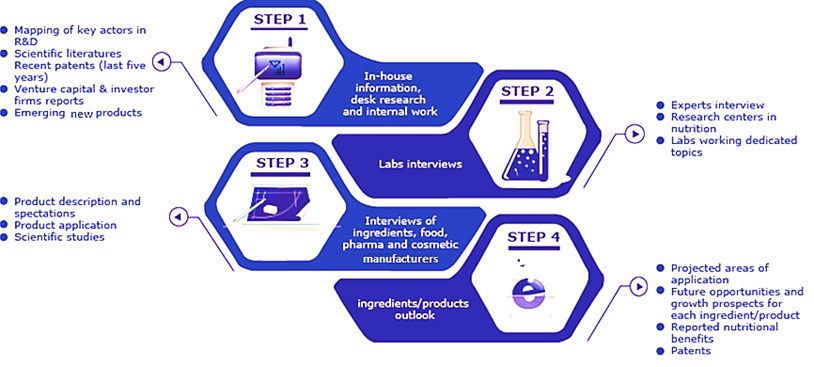 2- SEARCH FOR PARTNERS AND COLLABORATION
This search is made to find some partners to finance a specific project, to establish a collaboration in research / manufacturing or to distribute the product.
3- MADE UP OF BUSINESS PLAN/SEARCH FOR FUNDS
The made-up of a business plan in close collaboration with the company and the search for capital investment to develop the project.