Industrial Creativity
In the food industry where the product life cycle has considerably reduced, all companies and, in particular, small and medium sized enterprises, are facing the need to innovate more rapidly and more frequently. To meet these expectations, the company can:
formulate new products
identify new applications for existing technologies or innovative processes
enhance the global value chain.
To launch new products and identify new applications for technical processes, UBIC has designed a 5-step approach:
desk research,
brainstorming with experts,
analysis of selected market segments and an evaluation of their attractiveness,
product prototype guides [outline specifications],
the development proposal.
This approach can be used to develop:
new ideas for products,
new products based on existing ideas ('range extensions')
new developments of existing products,
applications for new technologies.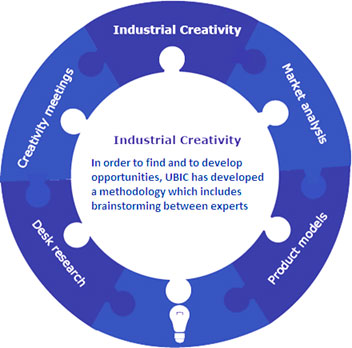 This leads to the creation of a business plan, including identification of new markets.
The company's management and staff, typically its R&D Dept., works with a creative specialist from UBIC, together with UBIC's associated external experts. These technical and scientific experts are drawn mainly from Universities and public research institutes. This multidisciplinary approach covers all stages, from the product concept right up to the marketing launch.
The success that we have found with this creative approach in delivering immediately applicable results is based the close involvement of company management and staff with UBIC and its external partners.